Soul'd Out Productions proudly presents...
SKERIK Band (Andy Coe, Damain Erskine, Tarik Abouzied w/ guests THMPR
Saturday
November 11, 2017
9:00 pm
PST
(Doors:

8:00 pm

)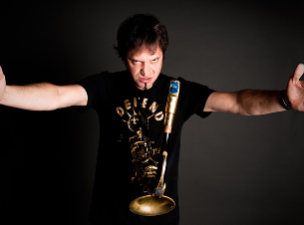 $12.00
SKERIK BAND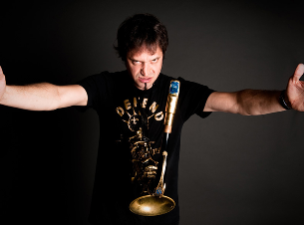 Skerik began playing saxophone in the fifth grade in the Mercer Island public school system. His father's love of jazz was an early inspiration. He played saxophone, keyboards and drums in a rock band called Uncle Jam at Mercer Island High School. He has cited The Rolling Stones and Pink Floyd as bands from that time period who brought saxophone into rock music well. In the 1980s he travelled to London, Paris and the South Pacific working day jobs and playing in a variety of bands. His friendship with Leif Totusek introduced him to South African music and Zaire soukous bands in London where he first began playing music full time.
Skerik returned to Seattle in the late 1980s where he played with Sadhappy. In the early 1990s he joined three ex-members of New Bohemians to form Critters Buggin (who have remained active through 2008). Projects since that time have included Ponga (Wayne Horvitz and Bobby Previte), Tuatara (Peter Buck, Scott McCaughey and Craig Flory) and solo works of Stanton Moore as well as Garage A Trois (also including Charlie Hunter). Beginning 2000 Skerik was a member of every incarnation of Les Claypool's Frog Brigade and Fancy Band. In 2001 Skerik played the Pacific Northwest portion of Roger Waters' tour, reproducing the sax lead in "Money".
In 2002 Skerik formed Syncopated Taint Septet with fellow Seattle musicians. After touring nationally, their 2006 studio release Husky received very positive reviews.
Skerik won the award of "Northwest Jazz Instrumentalist of the Year" at the 2003 Earshot Jazz Golden Ear Awards.
Skerik has expressed support of music education for young people and support for activism such as the voting project HeadCount. In interviews he has discussed creative integrity and spontaneity. He has also provided music workshops.
VARIOUS PROJECTS
Skerik is a founding member of Critters Buggin, Garage a Trois (which has included Stanton Moore, Charlie Hunter, Mike Dillon and Marco Benevento), Crack Sabbath and The Dead Kenny G's. Skerik is an original member of Les Claypool's Fancy Band and Frog Brigade, Bobby Previte's Ponga and Coalition of the Willing and Joe Doria's McTuff. In the 1990s he was also a member of Tuatara (with Peter Buck) and Seattle-based Sadhappy.
Skerik has toured with Fred Wesley, Mike Clark and The Headhunters, Wayne Horvitz (Zony Mash), Mad Season and Roger Waters. He has performed with Pearl Jam, Bonnie Raitt, The Meters, Galactic, Dumpstaphunk, Johnny Vidacovich, Jacob Fred Jazz Odyssey, Ween, and many, many others.
In Seattle Skerik leads Seattle-based "punk-jazz" ensemble Skerik's Syncopated Taint Septet. He is a founding member of Seattle's Crack Sabbath. He is also a member of Seattle-based McTuff.
In New Orleans he is a member of Maelstrom Trio (including long-time duomates keyboardist Brian Coogan and drummer Simon Lott). The Maelstrom Trio combines disparate elements such as free jazz, funk, metal and textural music. Skerik and percussionist Mike Dillon have toured as a trio with New Orleans bassist James Singleton as "Illuminasti".
Skerik and Dillon also perform as a trio called "The Dead Kenny G's" with alternate third members. National tours have included keyboardist Brian Haas and bassist Brad Houser. With Houser they have also toured as "Critters Buggin Trio" and in 2009 they released a debut CD entitled Bewildered Herd. As the band's name implies there is an expressed disdain for smooth jazz and commercialism. Skerik has described The Dead Kenny G's as a "free-jazz version of The Melvins." In 2011 The Dead Kenny G's toured with frequent Skerik and Dillon collaborator Les Claypool's Primus
THMPR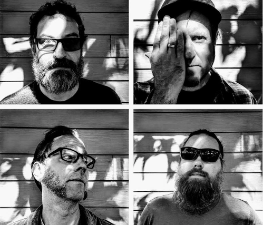 THMPR is a collaborative improv project comprised of local and internationally accomplished musicians and producers. Ralph Carney (Tom Waits, Elvis Costello, B52s) Jason Driver, Count Kellam, Jason Carter (Frank Black) and Ralph Huntley (klezmocracy, Fernando) form a cohesive, improvisational lineup that push boundaries and avoid derivative themes. All members come from drastically different musical backgrounds but unite under the principals of composition. More than directionless improv, THMPR seek to create unique moments, mining, finding and sculpting right in front of your eyes and ears. Tonight Andrew Borger (Norah Jones, K.D. Lang) joins the band on drums.